2021
Telescoping Masts to 50 Feet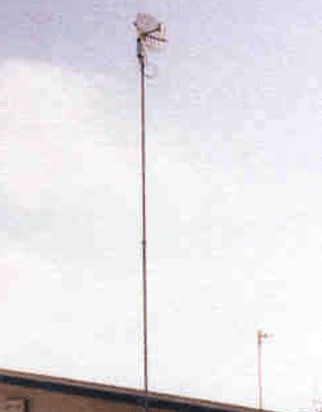 Available in 20', 30', 40' and 50' heights. All ROHN Products telescoping masts are pre-galvanized and come assembled with hardware. Erection is made by simply connecting guys and brackets to the attached unique heavy duty rolled edge guy rings and clamps, extend the sections, insert the locking cotter pins, rotating the tubes to a locked position, and tightening the clamps.
The unique ROHN Products design features interior tube flanging combined with a double crimped exterior tube to produce a stronger and more stable joint than most common masts. This design exclusive also prevents the sections from accidentally pulling apart and allows disassembly by pulling each section out through the lower end.
Each section extends deeper in to the lower tubes than most other designs, adding still further to the stability of the structure.
New Product
UPS Shippable!
Look at the P/N R-9H50, This part was modified to make it shippable by UPS! It's length is 99" for shipping and is approx. 34' tall when erected!!
August 2012 Data
Example: H40 Spec's & Guy Details
---
Common Accessories Also Available:
R-1/8CCF Clamps if using 1/8" plastic Coated Wire: $0.90 each
Heavier Duty Screw Anchor, P/N R-GAS604, $72.00 each
Light Duty Screw Anchor, P/N R-GAS4303, 3' X 1/2", $21.00 each
Ground Mount, Use P/N R-GTMBL, $34.00 each
Dual Wall Bracket, Use P/N R-WM4, $18.54 each
Single Wall Bracket, Use P/N R-WM6S, $18.70 each
Note: The 618 Guy wire and 61829GRPL is no longer Available
Use 1/8" Galv. Guy wire and clamps available at any Hardware store to guy these poles down.
Note: Poles must ship by Motor Freight, Except the 9H50, that can ship UPS.
For any other mounts use items off of the standard catalog:

Sandown Wireless, USA